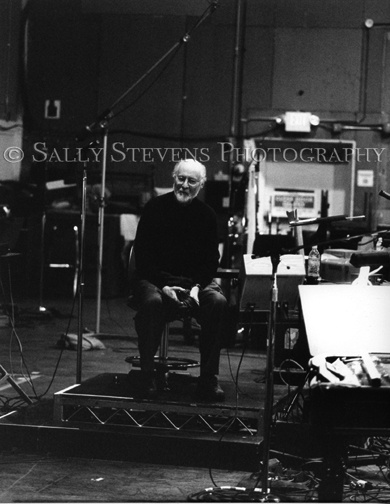 John Williams
Where does one begin to talk about John Williams.
John has become the Grand Master of film composers,
in the class with the giants of early film days, such as
Bronislau Kaper, Alfred Newman, Alex North,
Jerry Goldsmith, Elmer Bernstein.
John is one of the most, if not the most respected
composer currently writing for films.
The musicians who work under his baton hold him in
highest esteem, and one of the lovely things about John
is the graciousness and respect he in turn bestows upon
the musicians with whom he works.
John has had a long and rich career. Once known as
"Johnny Williams', he was a fine pianist, and worked in
the studios, playing on sessions for "PETER GUNN",
and "MR. LUCKY". He soon began orchestrating
and composing for TV and film, and his film credits
span from 1972 ("THE POSEIDON ADVENTURE")
thru "JAWS", "STAR WARS", "CLOSE
ENCOUNTERS OF THE THIRD KIND",
"RAIDERS OF THE LOST ARK",
"INDIANA JONES & THE TEMPLE OF DOOM",
"THE WITCHES OF EASTWICK", "EMPIRE OF
THE SUN", "THE ACCIDENTAL TOURIST",
"HOME ALONE", "SCHINDLER'S LIST",
"NIXON", "HARRY POTTER" Series,
"MINORITY REPORT", "WAR OF THE WORLDS",
"MUNICH", "MEMOIRS OF A GEISHA".
These fall far short of a full list!
His close association with Steven Spielberg through the
years has remained constant, and seems a match
made in film-making heaven.
This photograph of John was taken on the
Sony Scoring Stage during the scoring session for
"MUNICH".