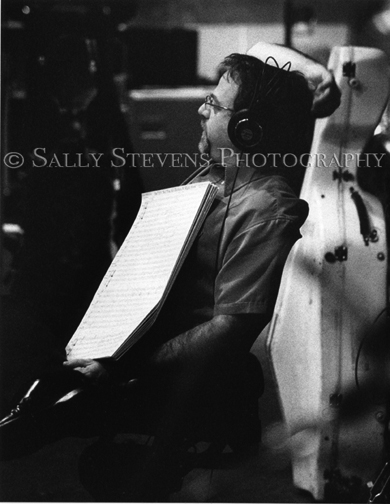 Marc Shaiman
Marc is an adorable pixie of a guy, who would
probably hate being referred to in that way!
His humor and charm makes it a joy to work
around him. He is well known both for his film
scores and his musical theater pieces.
He began his work as a pianist/musical director
for Bette Midler, then moved on to a long
association with SATURDAY NIGHT LIVE.
His film score credits include:
"THE AMERICAN PRESIDENT",
"WHEN HARRY MET SALLY",
"SOUTH PARK: BIGGER, LONGER,
AND UNCUT", "PATCH ADAMS",
"CITY SLICKERS" and "NORTH".
He also wrote, with his partner Scott Wittman,
the Broadway musical "HAIRSPRAY" and
they won a Tony Award for their efforts.
A successful film version of their musical was
also enthusiastically received by audiences.
This photograph of Marc was taken on the
SONY Scoring Stage, during the recording of
his score for "DOWN WITH LOVE".