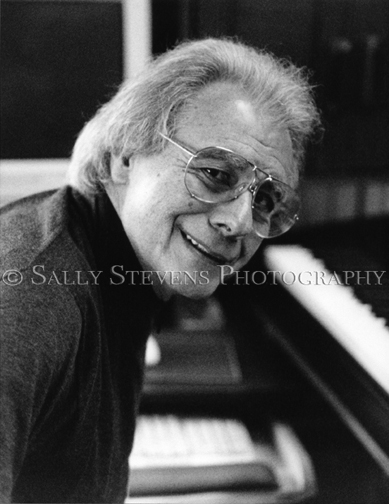 Lalo Schifrin
Lalo's long and respected career as a film
and television composer began in the sixties,
with such films as "THE FOX", "COOL
HAND LUKE", "THE PRESIDENT'S
ANALYST", "THX1138", "BRUBAKER"
"DIRTY HARRY", "BRIDGE OF SAN LUIS
REY", "RETURN FROM THE RIVER KWAI",
"THE FOURTH PROTOCOL", "THE DEAD
POOL", "THE MEAN SEASON", "SUDDEN
IMPACT", and "AMITYVILLE HORROR".
He is well known for his famous "MISSION IMPOSSIBLE" TV and Film theme.
He has contributed a wealth of material to jazz
and classical concert performances as well.
I had the great pleasure of working on many
projects with Lalo over the years.
In addition to a number of vocal group sessions
on various films, I performed solo vocals for
"DIRTY HARRY", and recorded his
theme from "THE FOX".
This photograph of Lalo was taken in his studio,
when he graciously allowed me to come to his
home to photograph him at work.