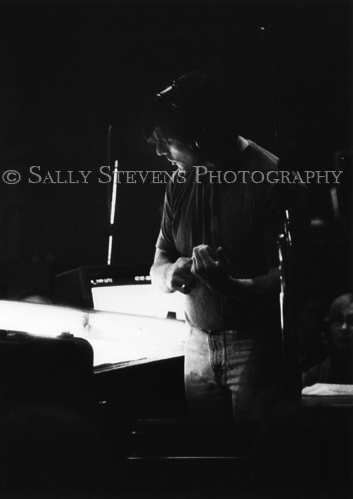 Thomas Newman
Thomas (Tom) Newman is one of the most
respected composers in film scoring.
His film credits include: "ROAD TO
PERDITION", "WHITE OLEANDER",
"JARHEAD", "CINDERELLA MAN",
"LIIMONY SNICKET", "THE GOOD
GERMAN", "PAY IT FORWARD", "FRIED
GREEN TOMATOES", "THE HORSE
WHISPERER", "THE GREEN MILE", "ERIN
BROCOVICH", "AMERICAN BEAUTY",
"SHAWSHANK REDEMPTION" "HOW TO
MAKE AN AMERICAN QUILT", and
"MEET JOE BLACK" among many others.
He wrote the score for the powerful TV Miniseries
"ANGELES IN AMERICA" and he also wrote
the theme for the innovative and popular
HBO series "SIX FEET UNDER".
Tom's music is emotional, sensitive and
powerfully effective, and the films he has
been offered, and has chosen to do, stand out as
projects of depth and significance.
Tom has had eight Oscar nominations.
His diverse talents allow him to move from heavy
dramatic story lines to light-hearted animation films.

This photograph of Tom was taken on the
Sony Scoring Stage in Culver City,
as he was on the podium conducting his
score for "FINDING NEMO".