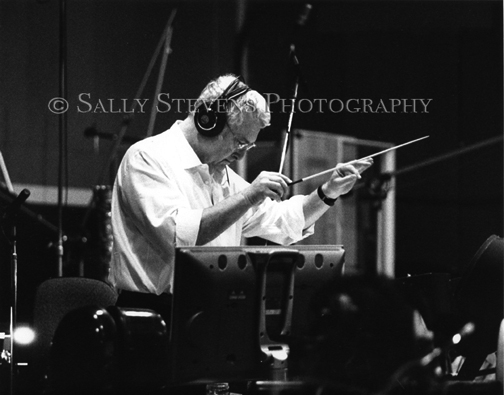 Randy Newman

Randy Newman, the Song Writer/Singer/
RecordingArtist/Composer is so multi-talented
it's hard to know in which area to begin with
the words of praise. The brilliantly ironic,
insightful, and irreverent lyrics he is so
well-known for, the magnificent film scores
he has created...he is truly a man for all seasons.
He charms the orchestra members from the
podium with his wry comments between
downbeats as he conducts.
Randy holds the
record for the number of Oscar nominations,
his being 16. His film score credits include:
"MEET THE FOCKERS", "CARS",
"MONSTERS, INC", "TOY STORY",
"JAMES & THE GIANT PEACH",
"A BUG'S LIFE","SEA BISCUIT",
"THE NATURAL", among many others.
He won an Oscar for Best Original Song, for
"If I Didn't Have You", from
"MONSTERS, INC". He also wrote the
wonderful theme song "It's A Jungle Out There",
for the hit TV Series "MONK".
This photograph of Randy on the podium was
taken at Sony Scoring Stage, during the recording
of his score for the animated feature "CARS".