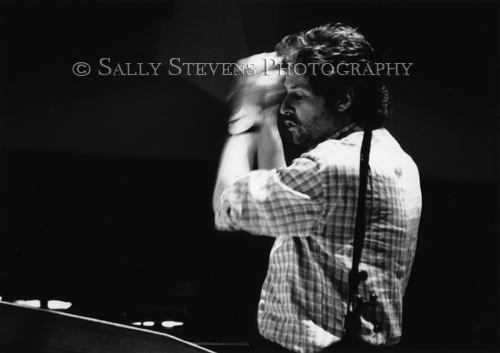 James Horner
James has created an impressive body of work
with his scores for such films as "TITANIC"
(for which he won a Best Score Oscar and
Best Original Song Oscar in 1997)
"A BEAUTIFUL MIND", "DEEP IMPACT",
"HOUSE OF SAND AND FOG", "BEYOND
BORDERS", "APOLLO 13", "BRAVE
HEART", "SNEAKERS", "HOW THE
GRINCH STOLE CHRISTMAS", "ENEMY
AT THE GATE", "MIGHTY JOE YOUNG",
"SNEAKERS" and "PATRIOT GAMES".
I have a lovely memory of working on one of
James' earliest scores, when he was very young,
and was doing a small film at Disney Studios
scoring stage. The film was called "STONE
BOY", and it was a sparce, lovely score which
included my solo vocals and the featured guitar
work of Tommy Tedesco, a much respected and
loved musician very active in the sixties
seventies and into the eighties.
James has certainly risen to the heights I
imagine he aspired to in those early days,
and deservedly so.
This photograph of James was taken at
TODD AO Studios, Studio City CA.
as he conducted the orchestra for the recording
of his score for "BEYOND BORDERS".