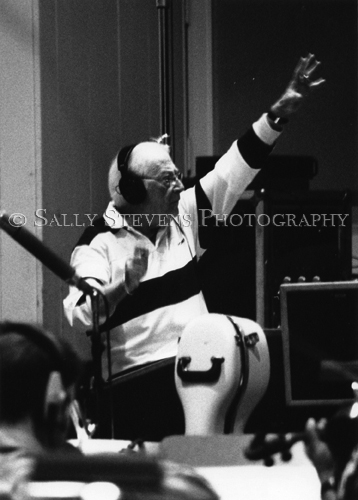 Jerry Goldsmith
Jerry was, and is, one of the most respected talents
in the business, a true legend among film composers
all around the world. He embraced an active career
which spanned from the fifties through 2004,
when he passed away of cancer.
I had the great pleasure of working with him as a
singer on many projects over the years. One was an
early project, "THE SECRET OF NIHM" for which
I sang the solo voice for the animated character of
the mother rat, singing the lullaby "Flying Dreams".
Some of Jerry's film scores included the
"STARTREK" series, "POLTERGEIST",
"SAND PEBBLES", "PSYCHO 2" "GREMLINS",
"THE OMEN","LOGAN'S RUN", "RAMBO",
"CHINATOWN", "BASIC INSTINCT",
"THE UNTOUCHABLES", "SIX DEGREES
OF SEPARATION", "HOOSIERS", "KING
SOLOMON'S MINE", "THE OMEN", "ALIEN",
"EXTREME PREJUDICE", "LILIES OF THE
FIELD", "LOGAN'S RUN", and "ESCAPE
FROM PLANET OF THE APES", only a partial
list of the many films he has scored over the years.
Jerry also wrote many of the best known TV themes
during the 60s, 70s and 80s, including
"THE WALTONS", "ROOM 222", "THE MAN
FROM UNCLE" and "TWILIGHT ZONE".
This shot of Jerry was taken in 2002 on one of the last
film scores he completed, "STARTREK:NEMESIS",
while he was conducting his scoring session on the
Paramount Lot, Stage M.