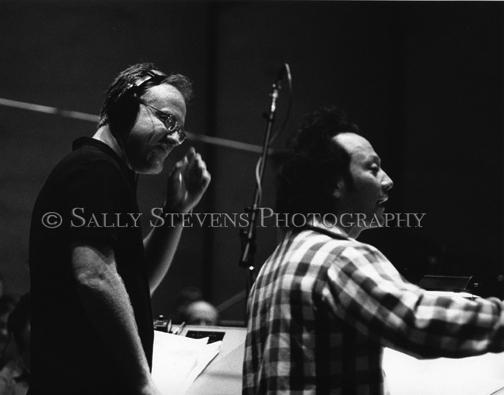 John Debney
with Rob Schneider

John grew up around the film business,
his father being a producer of numerous
Disney Studio projects. His interest in music
began at an early age and he received his
formal musical training at California School
Of The Arts. He soon began to develop his
professional career under the tutelage of
Mike Post, the producer of music for such
TV hits as "Rockford Files", "Magnum PI",
and "Law and Order". Soon John was scoring
his own TV projects, and in 1993 was hired to
do his first major film score for the Bette Midler
film, "HOCUS POCUS".
John's career has flourished, and his ability with
diverse styles of music has contributed to the
long list of film credits, among which are:
"THE SCORPION KING', "ELF",
"BRUCE ALMIGHTY", "THE EMPEROR'S
NEW GROOVE", "THE PRINCESS
DIARIES", "THE HOT CHICK",
"DRAGONFLY", and "CHEAPER BY
THE DOZEN". He received an Oscar
nomination for his lush and beautiful score for
"PASSION OF THE CHRIST".
This shot of John, with Rob Schneider the
producer/star of the film "HOT CHICK", was
taken on the Clint Eastwood Scoring Stage,
Burbank Studios.