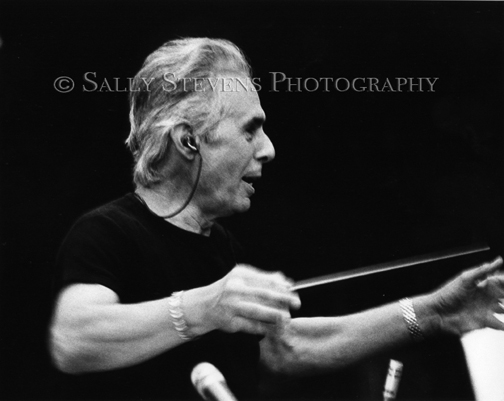 Bill Conti

Bill is a brilliant and prolific writer, and has
won many ASCAP awards over the years for
"MOST PLAYED TV THEMES.
He is probably most famously known for the
familiar "Gonna Fly Now" theme, which has
been used in all the continuing Rocky series of
films. Bill won an Oscar for "THE RIGHT
STUFF" and two Oscar nominations for Best
Song, "For Your Eyes Only", (lyrics, Michael
Leeson) and Best Song for "Gonna Fly Now
(Rocky's Theme, lyrics, Carol Connors, Ayn
Robbins). His other film score credits include
"TORTILLA SOUP", "THE THOMAS
CROWN AFFAIR", "SPY HARD",
"NAPOLEON", "KARATE KID",
"THE ADVENTURES OF HUCK FINN",
"YEAR OF THE GUN" and
"LEAN ON ME", to list only a few.

This photograph of Bill was taken on the
Newman Scoring Stage, 20th Century Fox,
as he conducted the scoring session for the
most recent "Rocky" series of feature films,
"ROCKY BALBOA".